Iconic U shape with physical
keyboard +4.5-inch display
Soft textured back for a better grip
Full power for full days
Have enough power to get you through a full day on a single charge. When you need power fast, Qualcomm® Quick Charge™ 3.0 gives you a 50% charge in only 36 minutes. Contextual battery experience learns your usage patterns and suggests the optimal time to recharge.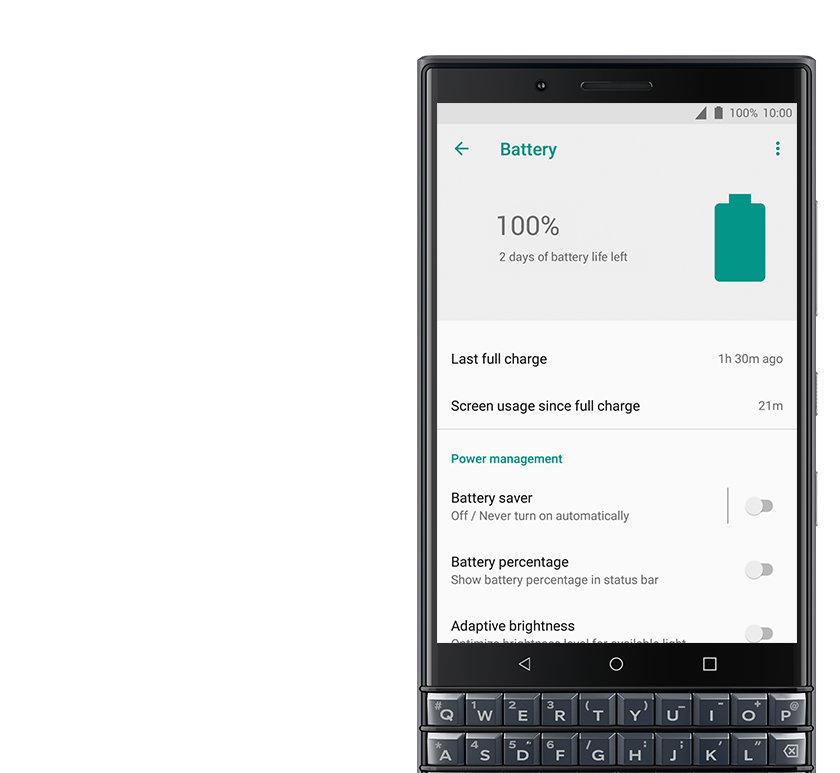 22 Hours
Mixed-use
3000mAh
Battery
Quick Charge™ 3.0
By Qualcomm®
Android 8.1 OreoTM
Enjoy a faster operating experience and millions of apps on Google PlayTM.
Google AssistantTM
Search the web with voice commands, control your smart home, start calls, set reminders and more.
Dual accounts
The new dual account feature lets you clone apps with a simple drag and drop, then switch between personal and professional accounts with ease. Dual SIM models allow for separate instances of phone number-tied apps.
Currently available for: Instagram®, Facebook Messenger®, Whatsapp®, and WeChat®.
Effortless efficiency
Speed Key gives you immediate access to what you need. Up to 52 programmable keys put apps and actions in reach at any time, with no need to return to the home screen.
Capture the moment
A dual rear camera allows the BlackBerry® KEY2 LE to create stylish portraits with bokeh, while the front camera helps you take stunning selfies with Face Beauty Mode. Google Lens enables you to explore the world around you with image recognition features.
Work & achieve immediately
BlackBerry KEY2 LE is instantly compatible with most enterprise environments. Android Enterprise Recommended makes it easy to select, deploy and manage BlackBerry KEY2 LE for your organization. Hardened Android software also provides thorough guards against threats to your business.